10 Nov 2021
Merton Social Prescribing Services chosen by the University of Oxford to be part of an evaluation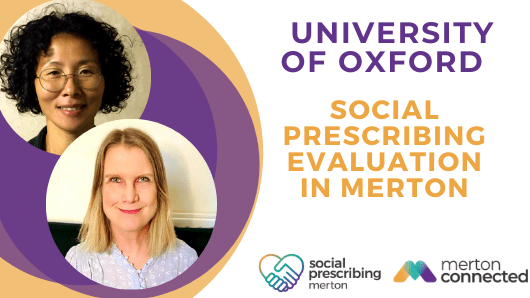 We are delighted that the Merton Social Prescribing service has been chosen by the University of Oxford to be part of a Social Prescribing evaluation and are one of just six sites selected from across the UK.
These different service providers vary in terms of the population served and the evaluation will last for 30 months, starting in November 2021. Wide Way Medical Centre in Pollards Hill and Lambton Road Medical Practice in Raynes Park were chosen to be evaluated by Oxford's research team. Both Practices were selected for their location and for the different cohort of patients that are being served.
Our Social Prescribers Nicole Lau and Sarah Hannigan have kindly agreed to be part of this long-term evaluation. Sarah and Nicole are very enthusiastic about this project and the whole team is embracing this opportunity to enhance our service delivery for patients in Merton even further. Many thanks to the teams at Lambton Road and Wide Way for enabling this evaluation on their premises. A big thank you to Nicole and Sarah and best of luck for the evaluation.